Three-phase transformers

AEE's three-phase transformers offer high safety, long lifespan and reliability. The fully custom-made three-phase transformers can be manufactured in single pieces, small runs but also larger runs, completely according to your specifications. Installation in a cabinet or panel integration is also possible.

A three-phase transformer is a high-power transformer used in a three-phase high-voltage grid to change the voltage level. If you are looking for high power transformers, Automatic Electric Europe's three-phase transformers offer the solution.
Description
Principle of three-phase transformers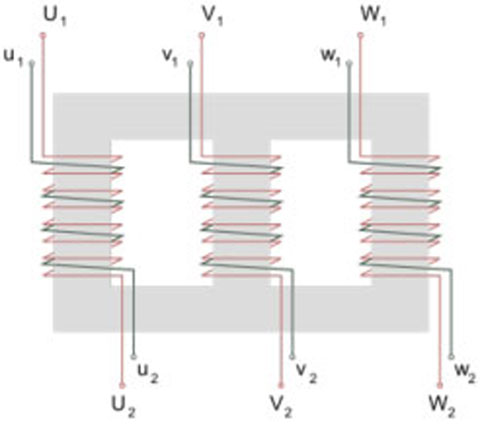 Three-phase transformers can be considered three coupled single-phase transformers, where the primary and secondary windings are applied to one magnetisable core. Each leg of the magnetisable core has 1 primary and 1 secondary winding. This input voltage is converted into a higher or lower voltage via a star (Y) or in a triangle (Δ or D) circuit, which is also executed in a star (Y) or in a triangle (Δ or D). Both the primary and secondary version are determined depending on what is required.
Features of the three-phase transformer:
Three-phase transformers designed as auto-transformers or as separate windings.
Standard frequency 50/60Hz
Air cooled
Insulation class E
Protection class IP00
Type of version, from UI60 to UI300 long side.
(see Dimensions tab for more information)
Built with touch-safe terminals
Reliable and long service life
Transformers can easily be overloaded briefly with 10-15%.