Single-phase transformers

AEE manufactures fully custom-made, but also standardized single-phase transformers. This can be done in single pieces, small runs or larger runs, entirely according to your specifications. Finishing in a housing is also possible. We pay a lot of attention to the safety, service life and reliability of the single-phase transformers.

The important property of a single-phase transformer is that it has separate windings and one galvanic coupling between the primary and secondary side. This guarantees a high level of safety. These transformers, also called isolation transformers, can be used for various applications. The application also largely determines the standard that a transformer must meet.
Description
AEE single-phase transformers have a standard frequency of 50/60 Hz and belong to insulation class E and protection class IP00. The single-phase transformer is available in various versions and can be extended with additional options.
Characteristics of the single-phase transformer:
Single-phase transformers with separate windings
Standard frequency 50/60Hz
Air cooled
Insulation class E
Protection class IP00
Type of version, from EI60 to EI240 long side.
Single-phase transformers are also available in 2 legs, upright from UI60 to UI240
(see Dimensions tab for more information)
Designed with touch-safe terminals
Reliable and long service life

Transformers can easily be overloaded briefly with 10-15%.


Dimensions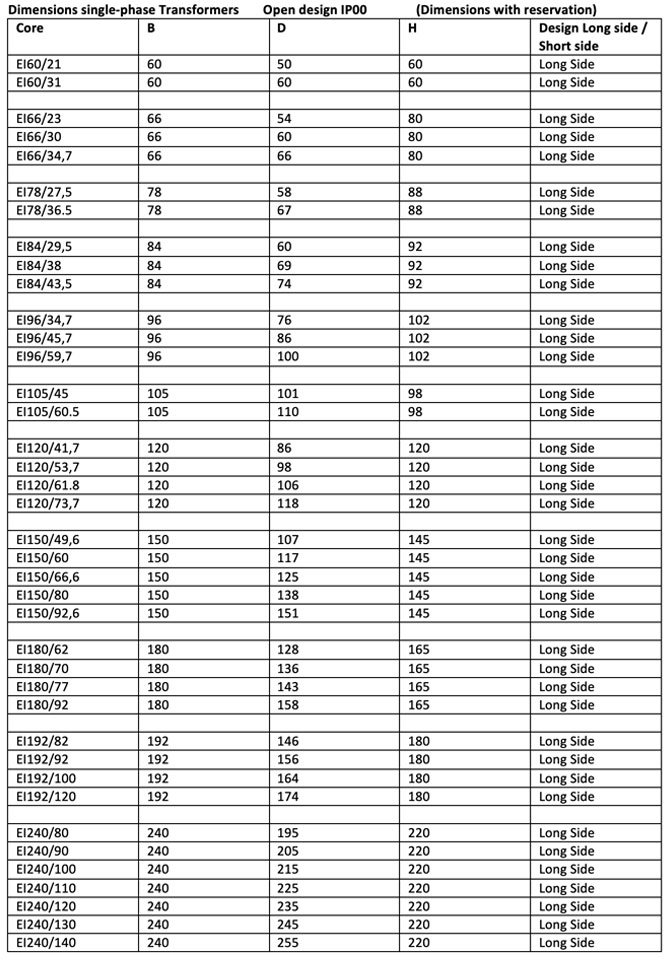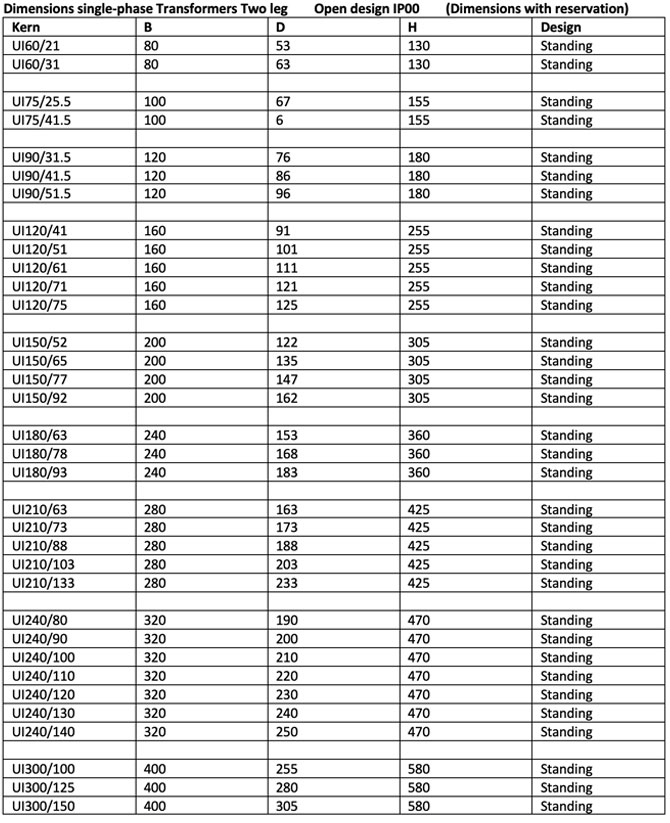 Options
Options for the single-phase transformers:
Additional branches
Extra windings
Installation in enclosures with protection rating starting from IP21 upwards
Fuse protection on transformer by means of terminal fuses
Earthing screens
Encapsulated variants
Print mounting / Din rail mounting
Insulation class other than E (= standard)
Other protection class IP
Other frequency range (standard 50/60 Hz)
Certification/Safety
All AEE transformers are manufactured according to the NEN- IEC61558 standard and are CE marked. AAE transformers can also be built with Lloyds quality mark, and according to the UL/CSA standards.

AEE also helps the customer with safety. We use our own quality system, which can be adapted to the wishes and requirements of the customer.
Documentation